The Hull Young Peoples Parliament Flood Manifesto
Living With Water worked in conjunction with the Hull Young Peoples Parliament to design a Flood manifesto in February 2022. After a day of education about flooding in the city, including a panel discussion session, we asked the young people five questions based on our Blue-Green vision related to transport, space, housing, water management and education. These questions guided the students in thinking about how they want Hull to look and be run in the future. Read more here.
Get involved with Living With Water
The Living With Water programme is all about working across multiple organisations, charities, schools and the public, so we really value your thoughts and ideas.
Our team is made up of communications, commercial and programme managers who can deliver talks on our programmes at your place of work or school and talk to you about your ides to tackle flooding in your part of the Hull and Haltemprice region.
We have various projects running which you can see on our homepage, but if you have an activity you would like to have us get involved with simply contact us.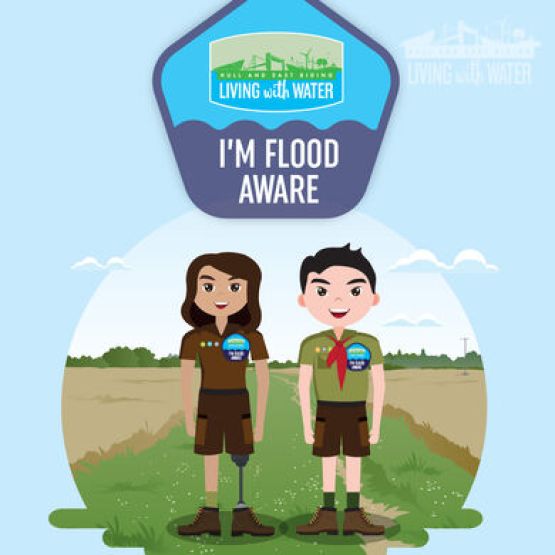 Living With Water Guiding and Scout Badge
It's important for us to ensure the next generation are flood resilient and knowledgeable about the risks of flooding and will always 'be prepared' – especially as Hull is the second biggest flood risk area in the UK outside of London.
As part of this, the education team at Yorkshire Water have designed a special Living with Water badge, which Scouts, Brownies and Guides in Hull and East Riding can work towards by completing lots of fun activities to by explore the world of water, climate change and preparing for a flood event.
If you'd like to find out more about the activities and challenges, please click below, where you'll be able to download all the materials needed to help your groups earn their badges.
If you have any questions about any of the challenges or would like to find out more, please email enquiries@livingwithwater.co.uk
Living With Water - Student Sessions
We are pleased to offer for the 2022/2023 term, Living With Water online lessons specifically for Hull and the East Riding of Yorkshire.
For more information, head over to Yorkshire Water's online lesson portal.
Understand how our communities can be affected by changes in climate and how they can be prepared for future flooding events with Marketing Humber's interactive Yorkshire Water student session, which formed part of The Waterline Summit 2020.
Download The Waterline Student e-book here where you will find links to the online session.

Educating the next generation on flooding
Talk to your children about flooding. Tell them what they might need to do in the event of a flood, such as moving their favourite possessions to safety. Make sure that they are aware of the risks of floodwater, and don't walk or play in it, or touch it.
Find out more in our Be Flood Aware section.