Frequently Asked Questions
Want to know more about flooding, the risks and how to prepare?
Check out our frequently asked questions.
How can I find out if I'm at risk of flooding?
You can check the long term flood risk assessment for locations in England.
The service can provide:
the probability that a location will flood
the possible causes of flooding
where to find advice on managing flood risk
Enter a property number or name and its postcode to see long term flood risk information for that area.
Or view a map showing areas at risk of flooding.
This service covers England only.
Visit the Government website to check your risk: https://www.gov.uk/check-long-...
How can I safeguard my home against flooding?
There are a number of things you can do to help protect your home against flooding. Head over to our Protect Your Property section to find out more about the measures you can take.
How can I prepare for flooding?
Creating a flood plan is a good way to prepare, so that you know what to do, should the worst happen. It can provide guidance and help you figure out the steps to take during a flood to protect you, your family and home. Part of this involves packing an emergency flood kit.
Whether you want to plan for yourself, a community group you're involved with or your place of work, we've outlined the steps you can take in our Plan & Prepare area.
Finally, make sure you sign up for flood alerts so you are as prepared as you can be for flooding. Register for flood alerts here.
What should I do if there's a flood on the way?
It's important to keep calm and remember that your health and safety comes first, so don't stay in your property any longer than you have to.
We've pulled together a checklist of things to do when a flood occurs, to help protect your family, your neighbours and your property – check it out here.
What flood defences can I install in my home?
There are various property flood resilience (PFR) products that can be used to make homes both resistant and resilient to flooding.
Find out more about the different types here on our Protecting Your Property section.
What are the authorities doing about flooding?
There are a number of authorities who have a function to assess flood risk and establish ways to manage. These are the authorities who make up the Living with Water partnership – Hull City Council, East Riding of Yorkshire Council, Environment Agency and Yorkshire Water.
It is important to note that no single authority has a legal duty to reduce flood risk. Flooding is an act of nature and whilst there are steps that can be taken to manage the impact we cannot say that we can totally reduce the risk. The authorities involved assess flood risk and the potential consequences of flooding, and plan to mitigate these with a flood scheme.
A flood scheme could involve keeping water out by constructing walls and barriers, controlling water by storing water at source or within the catchment or adapting to water by designing homes and infrastructure to be water resilient.
Why do I need to be aware of flooding?
Hull is a city built around water. Most cities in the world are built around water as water is essential for survival and also provides trade, jobs and energy. With this location comes the challenge of managing either too little or too much water.
Everyone has a role to play in managing water. The authorities with a function in flood risk can bid to government and other funders to make a case for flood alleviation – such as walls, barriers, or storage lagoons. Meanwhile, each individual resident can take steps to understand their potential risk from a flood and what simple easy measures they can do to reduce the amount of water getting in their property.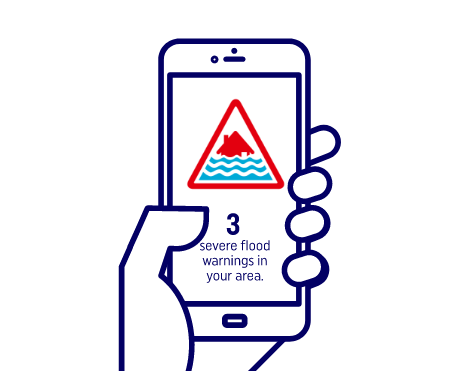 REGISTER for FREE flood
ALERTS & WARNINGS
Sign up for alerts via phone, email or sms messaging
SIGN UP HERE